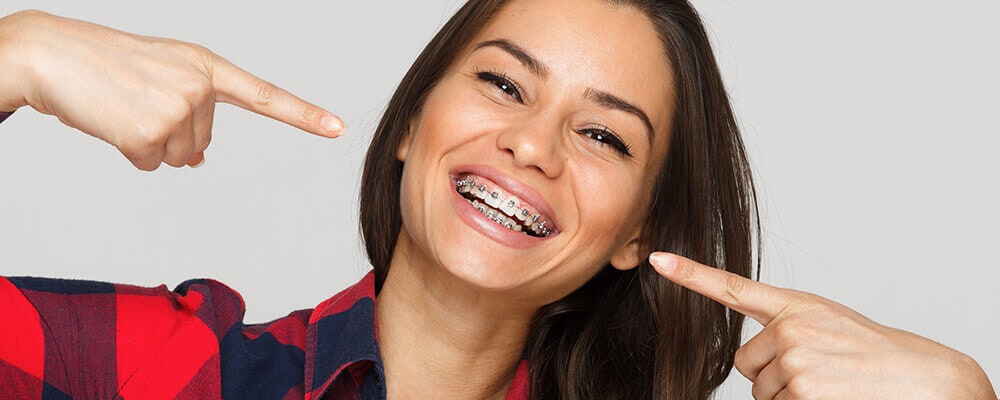 Although most people get braces in their teenage years, there truly is no age limit when it comes to this treatment. Braces are able to fix a number of orthodontic issues well into adulthood, leaving patients with a better quality of life in terms of health and self-esteem. If you are an adult who is interested in braces, read on to learn more about who qualifies for braces and what the process looks like from start to finish.
Am I A Candidate For Braces?
Most people know that braces are very useful for straightening out crooked teeth. For some adults, a cosmetic fix like straighter teeth is exactly what they want out of braces treatment. This can help boost confidence and make patients feel more comfortable sharing their smile. Aside from cosmetics, braces are also extremely effective at correcting orthodontic issues such as bite misalignment and overcrowding. These types of problems can lead to difficulty chewing, speaking, and breathing, as well as pain in and around the mouth. If you have experienced problems such as chronic jaw pain, TMJ, earaches, and bone erosion, braces could be a great treatment option for you.
The best way to determine if you are a candidate for braces is to book a consultation with your local orthodontist. At Efros Orthodontist, we offer free consultations so that everyone has access to accurate and reliable information regarding their orthodontic health. During this preliminary appointment, Dr. Efros will perform a visual examination of the mouth and take digital scans using the iTero scanner to determine the underlying jaw position. You will have time to ask any lingering questions and decide the best way to move forward with treatment if it is needed.
Types of Braces
We offer two types of braces at Efros Orthodontics, and depending on your needs, one type may work better for you than another. You can discuss with your orthodontist what your expectations are and decide together what kind of braces will best suit your lifestyle. Traditional braces use metal brackets and wires to apply pressure to the teeth and jaw, moving them into their proper position. This type of braces requires occasional visits to the orthodontist to tighten the wires and keep treatment moving along at a good pace. A similar but less noticeable option is clear braces. Instead of metal, clear braces use ceramic brackets that mimic the color of your teeth. Clear braces are just as effective as traditional braces but are usually a better option for adults to make their braces blend in with their teeth.
Life With Braces
There are a few lifestyle changes that come with braces, though they should not seriously impact your life. Making sure to incorporate these habits into your routine will ensure that your braces work properly and quickly. The first thing to keep in mind is that you should try to avoid hard, sticky, or chewy foods as these can break and damage your braces.
Another change is that you will need to pay extra attention while brushing your teeth. It is important to keep your teeth clean with braces because the brackets tend to act as magnets for plaque and buildup. Your orthodontist will provide you with a special flosser that can reach all the nooks and crannies of your teeth. Try to floss at least once a day to guarantee that when you get your braces off you will have a healthy, white smile!
Lastly, if you engage in contact sports it is important to wear a braces-friendly mouthguard to protect your teeth and your braces from any impact.
How Much Do Braces Cost?
We like to think of braces as a lifelong investment. They may be costly upfront, but braces can save you discomfort, time, and money in the long run by preventing more serious health problems. The final cost of braces will vary based on what kind of issues need to be addressed and how long treatment will take. To get a more accurate price estimate, you will need to visit your orthodontist for an examination. At Efros Orthodontics, we never want financial stress to get in the way of a perfect smile, so feel free to ask about any available discounts or payment plans that could be available to you!