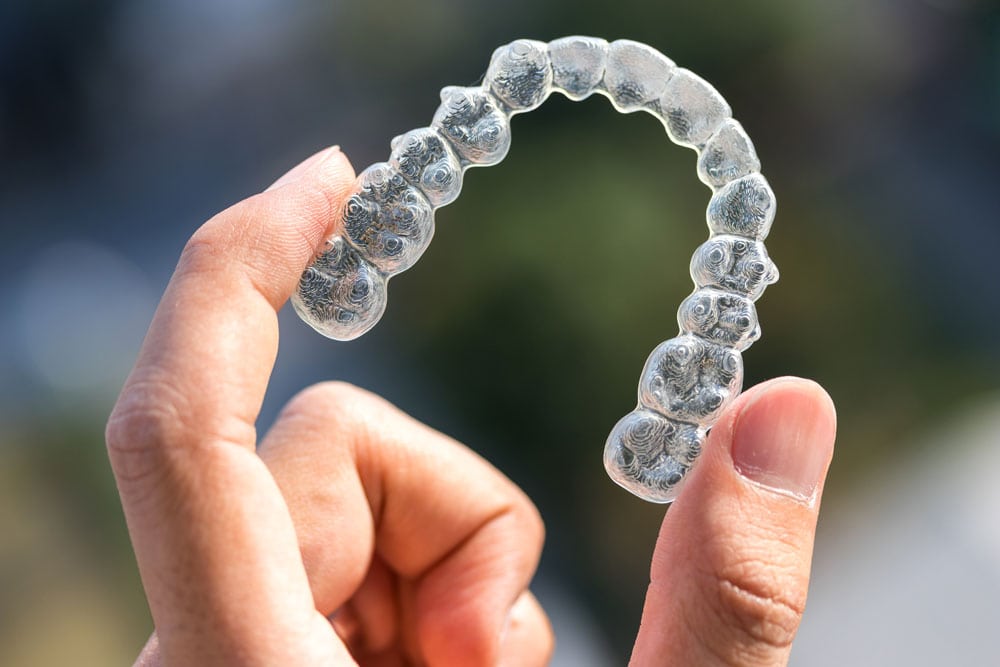 Invisalign is a novel orthodontic treatment that is now being used to correct many of the same issues that braces were used to treat in the past. Instead of metal brackets and wires, Invisalign uses clear plastic aligners to move the teeth and jaw to their desired positions. There are a number of reasons why a patient would prefer Invisalign over braces including their lifestyle, the orthodontic issues they would like to fix, as well as their age. Read on to learn more about how this innovative treatment could work for you!
Am I A Candidate for Invisalign?
Invisalign is now an option for patients of all ages. Typically, teens or adults will opt for Invisalign since it is a more convenient, and less noticeable form of orthodontic treatment. At Efros Orthodontics, we also offer Invisalign for kids, which can be used for phase one treatments in children ages 7-10.
Invisalign can be used to treat orthodontic issues such as overbites, underbites, gap teeth, overcrowding, and more. Many patients seeking cosmetic orthodontics to fix crooked teeth will pick Invisalign since it is not as noticeable as braces and works quickly to reveal beautifully straight teeth!
The Invisalign Process
To kick off your Invisalign journey, you will need to stop by the practice for a consultation. During this appointment, Dr. Efros will take time to explain the Invisalign process in detail and answer any lingering questions or concerns. Using the new iTero scanner technology, we will take digital impressions of the teeth and create a 3D model for you to look at with us. iTero uses a radiation-free laser to scan the teeth and soft tissue, rendering a perfect model within minutes that can be viewed via computer screen. This non-invasive, fast technology is our way of saying goodbye to those uncomfortable trays and putty that everyone despises when taking dental impressions.
Invisalign uses clear plastic aligners to gently move the teeth and jaw to their desired position. Every one to two weeks, your orthodontist will provide you with a new set of aligners designed to make another incremental change. You must wear your aligner for 20-22 hours a day to ensure that pressure is consistently exerted on the teeth.
Since the aligners are made of a smooth plastic material instead of metal brackets and wires like braces, Invisalign is known to be a more comfortable option. The aligners eliminate the possibility of wires poking out, or friction between brackets and the inner gums. You may experience some soreness after switching to a new aligner, but this can be alleviated by eating softer foods or taking a pain reliever such as Advil or Tylenol.
Benefits of Invisalign
There are plenty of benefits afforded with Invisalign that make it a fierce competitor against traditional braces. Here are some reasons why we, and our patients, love Invisalign!
Treatment Time: the Invisalign process takes 12 to 18 months on average, which is on par with braces treatment time.
Invisibility: Invisalign is so inconspicuous that most people will never know you even underwent treatment. The clear aligners are practically invisible to others, and they are made of very thin plastic that does not cause any speech impediments.
Practicality: Invisalign requires minimal time commitments from patients. You will only have to visit the orthodontist once every six weeks for a short check-up and to be given new aligners. The aligners are very effective at doing their job, are barely noticeable, and allow you to continue your lifestyle as normal.
Low Maintenance: it is very easy to care for your aligners, just make sure to incorporate a few steps into your daily routine in order to get the best results. You should brush your teeth after eating to make sure no food gets stuck or stains your aligners, and try to brush your aligner every day or so with a toothbrush and toothpaste in lukewarm water.
Comfortable: Invisalign prides itself on being a more comfortable alternative to braces. The smooth aligners do not cause any friction or irritation of the soft tissue inside your mouth. The only discomfort you are likely to experience is when changing aligners. This sometimes leads to minimal soreness around the teeth for a day or so but can be managed with medication and softer foods like soup, mashed potatoes, and ice cream. With Invisalign, you are able to eat whatever you want, whenever you want! Simply pop your aligners out before eating, enjoy your meal, and make sure to thoroughly brush your teeth before putting the aligners back in.
If you are interested in Invisalign and would like to know if this treatment would work for you, contact Efros Orthodontics today and set up a complimentary consultation!