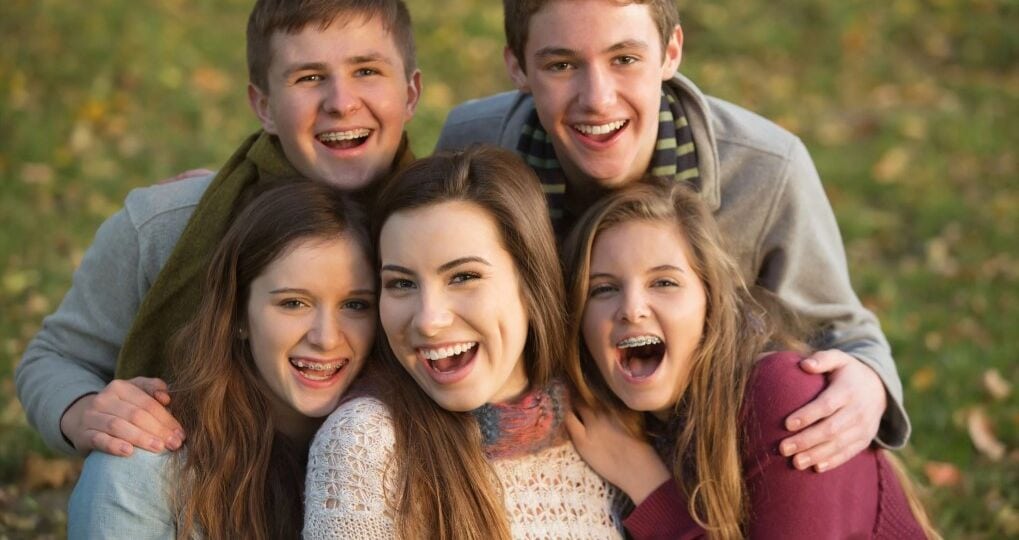 Nowadays, braces seem like a rite of passage for teenagers. Over eighty percent of teens will end up wearing braces or Invisalign at some point in their life, and some people may even wear braces multiple times depending on the configuration of their teeth and jaw. Normally, between the ages of 10-14 patients will go through braces treatment for about two years, but this duration varies based on a number of factors. How quickly a patient's teeth move, their diagnosis, and how well they follow directions from the orthodontist all play a part in how long someone will need to wear their braces. There is much to learn about braces in terms of which kind is right for you, how they will affect your life, and what orthodontic issues they can fix. Read on to gain more insight into braces and all that they entail.
Types of Braces
We offer two types of braces here at Efros Orthodontics: traditional metal braces and clear braces. Traditional braces utilize stainless steel brackets that are glued to the front of the teeth with non-toxic cement and then connected with thin metal wires. These are likely the same kind of braces your parents or grandparents wore, but they have been designed to be lighter and more comfortable for modern braces treatment. While wearing braces, you will need to visit Dr. Efros every 4-6 weeks to get your wires tightened. This ensures that there is constant pressure on the teeth so they continue to move in the right direction. For patients who prefer a less noticeable look, we recommend our clear braces. These braces use a cement material for the brackets instead of metal so they blend into the natural color of the teeth.
Life with Braces
Braces should not seriously alter your teen's life, though there are some precautions that they should keep in mind day-to-day. We recommend avoiding hard, chewy, or sticky foods, as these tend to break or damage the braces. If your teen does happen to eat food that is off-limits and their braces break, call your orthodontist immediately to come in for an appointment. In the meantime, they can use dental wax provided by your orthodontist to keep any wires from poking their gums. When participating in contact sports or other intense physical activity, your teen should wear a braces-friendly mouthguard to protect their teeth.
Braces are not painful, but they do tend to cause some soreness after visits to the orthodontist. During these visits, the orthodontist will manually tighten the braces in order to keep treatment moving along at an appropriate pace. Any discomfort caused by tightenings can be alleviated by eating soft foods and taking a pain reliever for the first day or so after an appointment. Some patients report tenderness after first getting braces put on due to the metal brackets rubbing against the soft tissue of the gums or tongue. In this case, putting some dental wax on top of the brackets will leave a smooth surface.
Another thing to keep in mind is that braces require a bit more care and attention in terms of dental hygiene. The brackets and wires act as a magnet for plaque and buildup, making it easier to get cavities, gum disease, or discoloration of the teeth. Taking the time to really brush between brackets and use the special flosser provided by your orthodontist is important to keep teeth healthy and white throughout treatment.
Are Braces Right For Me?
Braces are able to fix a range of orthodontic issues, some that you may have already noticed, and others that could require a diagnosis from a doctor. The most obvious reason for getting braces is crooked teeth, but overcrowding and bite misalignment are also common issues that can be solved with braces. The best way to determine if your teen is a candidate for braces is to stop by for a free consultation with Dr. Efros. During this appointment, one of our team members will use the iTero scanner to get an accurate image of your teen's teeth and jaw. The iTero scanner uses a radiation-free laser to scan the teeth and soft tissue, rendering a perfect model within minutes that can be viewed via a computer screen. This non-invasive, fast technology is our way of saying goodbye to those uncomfortable trays and putty that everyone despises when taking dental impressions. If your teen does need treatment, one of our treatment coordinators will be able to explain the treatment process to you and answer all of your questions. The typical treatment time with braces is two years, though this really depends on what kinds of issues need to be addressed. For more cosmetic fixes, the treatment time will be shorter, but for serious misalignment or crowding problems, the process will likely take longer.
If braces seem like a good fit for your teen, feel free to call and book a consultation today with Efros Orthodontics! We always look forward to meeting new patients and helping them feel confident in their smile.